Swinging to the Strains of Harry James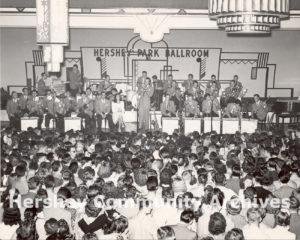 Hershey Park Ballroom was a popular venue for Big Bands during the 1930s, 1940s and 1950s. Virtually every nationally known Big Band played at the Park Ballroom, making it the leading dance floor in Central Pennsylvania. Dancing was sometimes a problem in the ballroom, despite its 190 foot length and 40 foot width. The crowds were frequently so large that it was hard to move, let alone dance. Dances always ran 8:30 p.m. – 12:30 a.m., except when Guy Lombardo played and for some unknown reason the time shifted to 9:00 p.m. – 1:00 a.m..
Harry James was one of the most popular bands to play at the Ballroom. At his July 8, 1944 performance attendance reached a new high with 6,194 people. That record was broken a few years later when Vaughn Monroe's August 23, 1947 performance brought in 6,945 people.
During the 1940s the price of admission to the Ballroom was $2.40 for dancers, $1.20 for spectators and $1.50 for military personnel. For those that could not afford those prices, the pool offered a cheaper alternative. In an 1990 oral history interview with Dick Bacastow, he explains:
You could go swimming for twenty-five cents… The swimming pool was right next to the Ballroom, and if you went down there later on when you got interested in young ladies and you didn't have the money or weren't old enough to go to the ball room, you'd go in swimming in the afternoon, four, five o'clock, and then you could sit along in the sand–they had a great beach–and listen to Glenn Miller, Harry James, Jimmy Dorsey, etc.  All the great bands in the world came to Hershey's Ballroom.
Gallery
Click image to view larger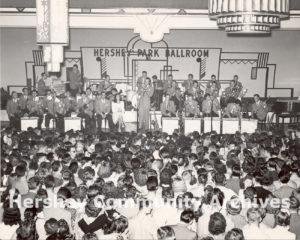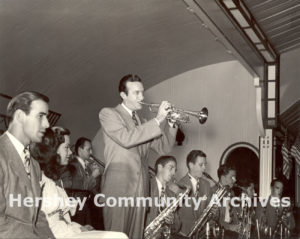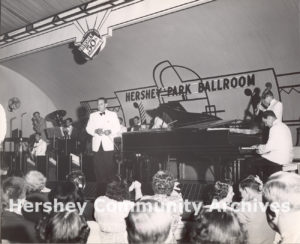 Search Encyclopedia