Cooling Off in the Summertime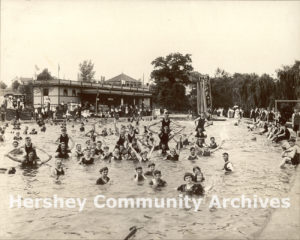 For almost 60 years swimming at the Hershey Park Swimming Pool was a popular destination for visitors and local residents. Today, for many people, seeing the Lighthouse across the street from Chocolate World and the Hersheypark entrance evokes memories of swimming in the "giant" swimming pool, meeting friends, and teenagers staying late to listen the the dance bands performing at the Hershey Park Ballroom.
Hershey Park's first concrete swimming pool was added in 1911. Completed in the fall, the pool served as an ice skating rink that winter and opened for its first swimming season in 1912. The pool was a popular destination and attracted thousands of visitors both as users and spectators. A few years later the pool was enlarged and a water toboggan feature was added. To ride the toboggan swimmers carried wooden "sleds" to the top of a long wooden slide and rode the sled down to splash in the pool below. The ride was so fast that riders hydro-planed for several yards before sinking into the water.
By the 1940s over 100,000 people visited the pool each summer. The Archives' oral history collection contains many fond memories of the Park Pool. Many families came to the pool every day during the summertime. Young men remember the pool as a wonderful place to bring a date if you didn't have much money. The pool was located right next to the Ballroom. From the pool, you could hear all the great bands that played at the Ballroom, such as Jimmy Dorsey, Glenn Miller, and Harry James. The Pool was closed following the 1971 summer season. Today all that remains of the famous Park Pool is the lighthouse along Park Boulevard.
Gallery
Click image to view larger
Search Encyclopedia