Taking to the Skies: Hershey Air Park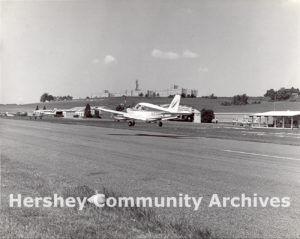 By the 1930s, air travel had moved from fantasy to reality for more and more people. Small airfields seemed to be popping up everywhere as various government departments worked to encourage a network of air fields across the United States. In addition to providing landing strips for private airplanes, these air fields provided mechanical repairs and maintenance, as well as offering flying lessons and sight-seeing tours. With Hershey's emergence as a regional destination in the 1930s, it was only a matter of time before Hershey had its own air field.
During the last years of World War II, the Pennsylvania Aeronautics Commission, represented by William Anderson, encouraged communities across the state to build local airfields. In response to growing numbers of people who wanted air service to and from Hershey and those who wanted the opportunity to view Hershey from the air, Hershey Estates opened the Hershey Air Park on July 31, 1944.
The original air field was located across the street from Hershey Park and just below the Hershey Rose Garden. An unnamed road separated it from Hershey Park. Until this point the road had been referred to as the access road to Route 22. It was now officially named: Airport Road.
To manage the Air Park, Hershey Estates selected Herbert Erdman, a World War II pilot and the son of Harry Erdman, Hershey's horticulturist and manager of the Hershey Nursery.
The Air Park offered a variety of services, including airplane storage in hangers, flying lessons and sight-seeing tours.
The local sight-seeing flights lasted from 10 to 60 minutes and cost $2.00 to $7.50. A ten-minute flight provided an overview of Hershey. The hour long sight-seeing trip took passengers throughout the Lebanon Valley and included Harrisburg, Elizabethtown, Cornwall and Fort Indiantown Gap.
Planes were also available for rent at the rate of $7.00 per hour.
About 1951-1953, Harry Williamson became the manager of Hershey Air Park. Under his management, the air park expanded with additional hangers for the storage of private airplanes whose owners rented space for their aircraft. Williamson also represented Piper aircraft, selling airplanes. He served as manager until 1972-1973.
The Air Park was a popular addition to Hershey's amenities and was featured frequently in Hershey News articles.
The Air Park was enlarged in 1965. That year a small mound was removed and the runway was expanded to 3000 feet and paved.
About 1972-1973 Bob Mumma leased the Air Park. The air park was renamed Derry Aire. The lease passed to someone else a few years later.
It closed on January 31, 1981. Without an air park located along the road, Airport Road was renamed Hersheypark Drive in March 1981.
When you drive along Hersheypark Drive now, you can still see remnants of the air park. Today the area is used for overflow parking and the Antique Auto Show in October, and Pennsylvania State Police trainees use it to practice their driving skills.
Gallery
Click image to view larger
Search Encyclopedia