Year Round Entertainment: Hershey Central Theater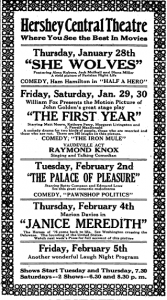 We've been working on a new presentation to tell the story of the history of entertainment in Hershey. While modern Hershey is well known as being a destination for all sorts of entertainment, providing a broad range of entertainment opportunities was part of Hershey's allure from its earliest years. The Hershey Press (available online from the Archives website) is a great resource for learning about Hershey during these early years. Hershey Park offered vaudeville and band concerts from the beginning. But the park was not the only venue for entertainment.
After the M.S. Hershey Consolidated School opened in 1914, McKinley School, the original public school building, was remodeled and renamed Hershey Central Theater. Developed to present a wide range of entertainment during the Park's off-season months, the Central Theater operated as a movie house, showing movies 2-3 times a week (Monday, Saturday and sometimes Wednesdays) for $.10. The theater was also used for vaudeville, lectures, concerts, political rallies and church services. Sunday afternoons frequently featured presentations by inspirational speakers and concerts by the Hershey orchestra, Hershey Glee Club and other local groups.
Live theater was also alive and well in Hershey during these early years and the Men's Club, Women's Club and other organizations presented a variety of theatrical performances.
As an early center for community life, Hershey opened a Visitor Information Bureau here in 1915. That same year the Hershey Public Library moved to this facility. The library and the information bureau operated from this building, until it was demolished to make way for the new Community Building, which opened in 1933.