HERSHEY'S KISSES Chocolates
HERSHEY'S KISSES chocolates are recognized the world over by their distinctive conical shape of bright colored foil wrappers topped with the paper plume, and of course, their great taste. Since their first manufacture in 1907, the quality and value of bite-sized chocolate KISSES has endured–KISSES chocolates are as popular today as when they first appeared.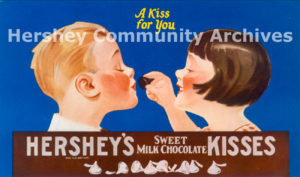 WRAPPERS, THE PAPER PLUME, PACKAGING, AND PRODUCTION
In early production, KISSES chocolates were hand-wrapped with foil and inside the foil wrapper was included a square of tissue paper that identified it as a Hershey's product. Since the buyer could not see that identification until after the chocolate was unwrapped, the KISSES product wrapper at that time did little to deter imitators. To counteract the sizable number of competitors, The Hershey Company (then known as Hershey Chocolate Company) developed wrapping machinery that could insert a visual product marker, a strip of paper called a plume, also called a tag or flag, in August 1921. First printed with the brand name, "Hershey's," this paper plume strip was an identification tag on every KISSES chocolate, proclaiming "quality chocolate!" to every consumer. Both the paper plume and the production machinery that added it to the KISSES foil wrapper would prove to be a big competitive advantage for Hershey.
Hershey Chocolate Company obtained a US registered trademark protecting the conical wrapper, including the paper plume, in 1924. Before the term "plume" took hold as part of the Company's vernacular, early promotional materials refer to the paper plume as an "identification tag." In some oral histories in the Archives, early employees referred to the paper strips as "flags." But "plume" became the longest-lasting and most predominant term used by the Company for those paper brand identifiers of HERSHEY'S KISSES chocolates.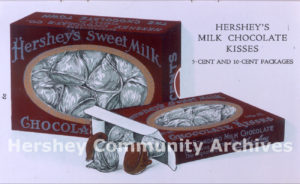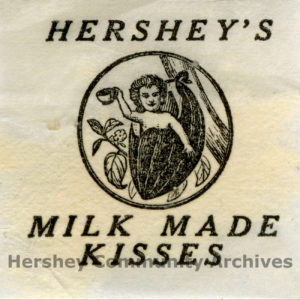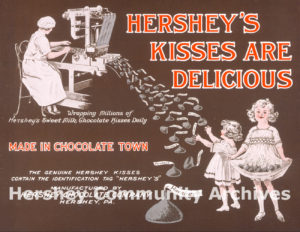 THE KISSES NAME
The Company later obtained additional federal trademark registrations protecting the name and unique conical shape of the chocolates–both wrapped and unwrapped. In fact, the image of a KISSES chocolate with paper plume is so iconic that it is currently used as The Hershey Company's corporate logo.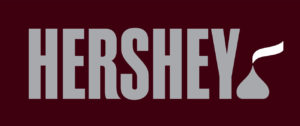 There are many stories related to how KISSES chocolates received their name. No one knows for sure. Some have suggested that the machines that extrude the chocolates make a sound like a kiss. Another possibility is that "kiss" was a common confectionery term at the time to refer to a small piece of candy, and Milton Hershey was smart enough to file for a trademark for the name of his product, "HERSHEY'S KISSES," in 1921.
Milton Hershey introduced his famous KISSES confection in 1907. KISSES chocolates were mass-produced on machinery that could accurately extrude chocolate at a precise temperature and amount, and then properly cool it.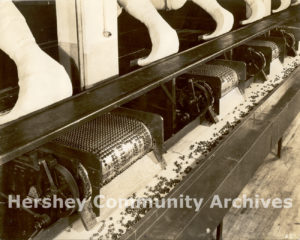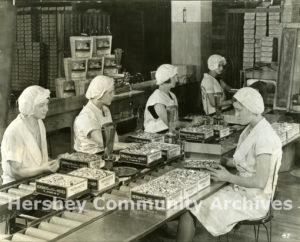 SIMILAR PRODUCTS
Prior to KISSES chocolates, Hershey had a molded product called Sweethearts. It was conical and had an indented heart shape on its base. In addition, during the Company's early years, many items similar to KISSES chocolates were also produced concurrently with KISSES chocolates, including Silverpoints, Silver Tops, and Liberty Bells.
Introduced in 1918, Silverpoints chocolates were manufactured on the same machinery as KISSES chocolates. While Silverpoints were also wrapped in silver foil, they did not include the recognizable paper plume used in connection with KISSES chocolates. Another distinction from KISSES chocolates was that Silverpoints were made from a different formula for milk chocolate that the Company referred to as Homestead milk chocolate paste and were sold as piece goods. Silverpoints were discontinued in 1941 because wartime efforts led to foil shortages and demand for KISSES chocolates was too great to permit continued production of Silverpoints.
A Silver Tops branded product was introduced in 1909 and discontinued in 1931. Less is known about this product. However, documentation indicates that they were sold by the piece (two for a penny). Added in 1921, at the same time as KISSES chocolates, Silver Tops also included the paper plume in its wrapping.
Liberty Bells chocolates were only in production for a year–introduced in 1921 with stock exhausted sometime between 1922 and 1926. This product was only sold in bulk, packaged in 2½, 5, and 25 pound units. Similar to KISSES chocolates in shape, they were wrapped in red, white, and blue foil.
PRODUCT CHANGES
Production of the beloved KISSES chocolates was also halted during World War II because the foil wrap was rationed for use in the war effort. For the same reason, Hershey began using white glassine paper as an inner wrap on HERSHEY'S Milk Chocolate bars and HERSHEY'S Milk Chocolate with Almond bars instead of foil. Fortunately, the production of KISSES chocolates resumed in 1949.
Hershey created special holiday packaging for KISSES chocolates starting in 1923 for the Christmas season. Holiday packaging for Easter was introduced a few years later. In the 1950s, holiday packaging for Valentine's Day and Halloween was added.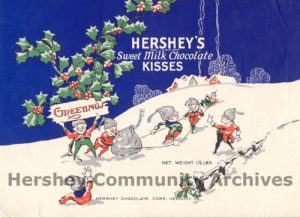 However, it wasn't until 1962 that the foils for KISSES chocolates began changing colors. That year Hershey first wrapped KISSES chocolates with red, green, and silver foil for the Christmas season. Pastel colored foils (blue, pink, and green) were used for the first time in 1968 for the Easter season. Since then Hershey has added specially colored foil wrap to market KISSES chocolates for Valentine's Day (pink and silver, 1986) and the Fall season (gold, orange, and brown, 1991).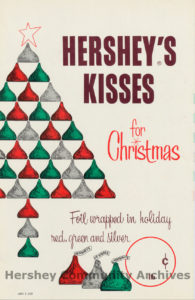 The popularity of KISSES chocolates led to many line extensions. KISSES Semi-Sweet chocolates, wrapped in gold foil, were introduced in 1972, but were soon discontinued. The gold foil wrap was next used with the introduction of KISSES Milk Chocolates with Almonds in 1990. When the KISSES Milk Chocolates with Almonds product was being developed, the Company originally planned to introduce them under the HUGS trademark. Before KISSES Milk Chocolates with Almonds came to market, Hershey decided that the name HUGS was not a good match for the new product and it was introduced in 1990 as KISSES Milk Chocolates with Almonds. A year later, in 1991, HERSHEY'S HUGS Candies–miniature KISSES Milk Chocolates covered in white creme–were launched. The most recent line extension came in 2006 with the addition of KISSES SPECIAL DARK Mildly Sweet Chocolates.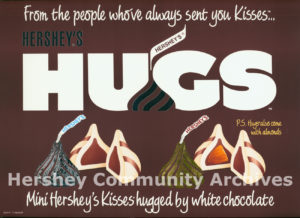 Since the late 1990s, Hershey has launched a variety of limited edition KISSES products, some of which have been added to the permanent product line. Examples include: KISSES Milk Chocolates filled with Caramel (introduced 2004), and KISSES Candy Cane Mint candies (introduced 2006), and KISSES Milk Chocolates filled with Cherry Cordial Creme (introduced 2007).
THE INFLUENCE OF HERSHEY'S KISSES CHOCOLATES
You only need to look down Chocolate Avenue in Hershey, Pennsylvania to realize the importance of KISSES chocolates in the Company's history. The streets of Hershey are lined with streetlights designed to resemble wrapped (complete with plumes that wave in the wind) and unwrapped KISSES chocolates. These lights were installed in 1963 as a result of Hershey Chocolate president Sam Hinkle's request for "uniquely Hershey" lighting in the community's downtown.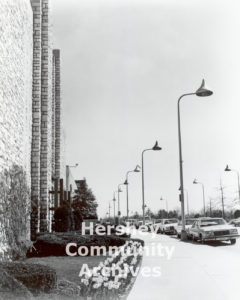 The iconic nature of KISSES products also led to the 1975 creation of Hersheypark's aerial experience, The Kissing Tower, a custom tower that raises guests 250 feet in the air. One of the ride's most distinctive features is its viewing windows shaped like KISSES chocolates.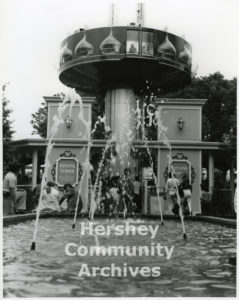 While many products come and go, HERSHEY'S KISSES chocolates have remained one of The Hershey Company's core brands for well over a century and are beloved around the globe. The next time you use the distinctive paper plume to unwrap a KISSES candy, just remember the long history the chocolate has played in the confectionery industry and society.