You Scream, I Scream, We All Scream for Ice Cream!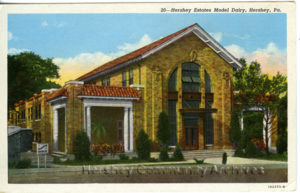 When the outdoor temperature rises, ice cream comes immediately to mind.  Thankfully, Hershey has always been a place to get great homemade ice cream. Milton Hershey believed in finding a use for everything. The Hershey Chocolate factory needed skimmed milk for making milk chocolate. The Lebanon Creamery, which opened in  1905 processed the milk for shipping to the factory and bottled milk and cream for retail sales. It also made cottage cheese and ice cream. When a creamery or "model dairy" was built in Hershey in 1929, it also began processing milk for retail sale.  Located next to Hershey Park it was a popular destination for Park visitors, Ballroom dancers and swimmers at Hershey Park Pool.
Fred Mazzoli, interviewed in 1990 for the Archives' oral history program, had many memories of making ice cream at the Hershey Creamery. He started out at the creamery in 1932 as a 14 year old working a summer job. He had a knack for fixing machines and for making ice cream.
Audio transcript:
Well, first of all, I was pretty handy with machinery up in the factory [sic] [creamery]. They had an Eskimo pie machine, and they could never get it to work. So there was a fellow that we knew, a fellow by the name of Capreni. He worked in the creamery, because he had worked in the creamery in the factory. So they sent him down to the Hershey creamery department to work because he knew something about the machinery. So he got me a job and I went to work there. In no time at all, they needed somebody to make ice cream, so I took up the ice cream. They made it in some departments there. From there we started making Eskimo pies, and I was handy with the mechanic part of the Eskimo pie machine. That's how I started making ice cream.

I went to Penn State for a couple of weeks, for instruction, something like that, in creamery work, but when I went up there, I had started decorating ice cream with whipped cream. When I went up there, I was doing this decorating, and that gave them another idea to teach up there. So I really was hired down there to operate the Eskimo pie machine, and from then on I took over that whole ice cream department, and I was in charge of the ice cream department until I quit and come up here and work here [Mazzoli Ice Cream].