A Key to the Past: Hershey Chocolate Factory Architectural Plans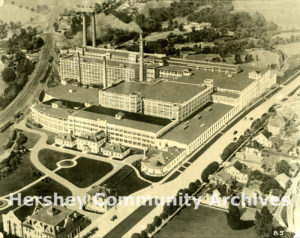 This post was provided by Archives Assistant, Julia Morrow.
The original Hershey Chocolate Factory has dominated the streetscape of Chocolate Avenue in Hershey, PA ever since ground was broken in 1903. The factory is not a single structure, but a complex of buildings that were constructed over several decades. Once Milton S. Hershey started building, he didn't stop; new buildings and renovations were added to the factory as Hershey Chocolate Company expanded. Hershey's original chocolate factory closed in 2012 and is currently undergoing partial demolition.
The buildings may have not withstood the test of time, but their blueprints have been saved. Factory blueprints were transferred to the Hershey Community Archives in 2013. These architectural plans trace the evolution and growth of the Hershey Chocolate Factory compound over the last hundred years.
Nationally recognized architect, C. Emlen Urban, was the original architect for the Hershey Chocolate Factory. Working with Milton S. Hershey on the development of Hershey, PA from 1903 into the 1920s, C. Emlen Urban is responsible for many of Hershey's most beloved buildings.
Twenty four of Urban's earliest blueprints of the factory, drawn in 1903, remain. Many of these blueprints are detailed floor plans which provide important information including the functional layout of the factory. For example, the "Cocoa Bean Roasting Hulling" room was located next to the "Cocoa Press" room. By studying the floor plans, you can see how Milton S. Hershey organized the production process of his famous Milk Chocolate.
While these plans provide extremely detailed information as to the layout and construction of the factory, they can be appreciated on another level. Each individual plan was drafted by hand, resulting in a hand-drawn work of art. Today, architectural plans are created on computers, using drafting software.
Urban's factory plans also included elevations of the factory facades. This collection provides one of the earliest views of how the Hershey Chocolate Factory would look from the outside. One particular plan shows the southern and western facades of the Hershey Chocolate Factory's Cocoa Powder, Sugar Mill, and Mixing building.
Compare the images of the factory elevations with the postcard view of the original factory. While some of the architectural elements were incorporated into actual construction, such as the cupolas and the window design, the original factory as envisioned by Emlen Urban, was not built as he initially imagined the building.
This original plan also does not include a key that would provide a drawing scale and other architectural information. It is probable that C. Emlen Urban created this plan to convey his vision for the factory buildings to Milton Hershey. The beautiful detail work on this blueprint, and the numerous other factory blueprints in the collection ensure that although the physical buildings may be gone, the original Hershey Chocolate Factory will live on.
Gallery
Click image to view larger
Search Encyclopedia