A New Ride for a New Park: Trailblazer Roller Coaster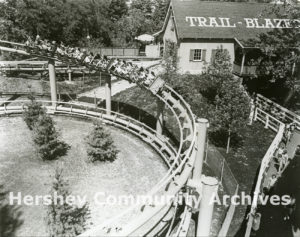 Did you know that Hersheypark has 12 (12!) roller coasters? And that most of them have been added to the park in the last 23 years?
For most of the Park's existence, only one roller coaster was present. Hershey Park's first roller coaster, The Wild Cat, began operating in 1923. In 1946, it was disassembled to make way for the park classic, The Comet, a wooden, out and back coaster that is still a mainstay of the park today.
After Hershey Park decided to re-imagine itself as a themed amusement park in 1971, many changes were made. The park moved to a single price admission plan, created themed areas and began adding new and exciting rides, as well as a wide variety of entertainment.
In 1974 Hersheypark (now one word) added a second roller coaster: the Trailblazer.
The new roller coaster was designed by Duell and Associated and built by the Arrow Development Company of Mountain View, California. The Trailblazer was a modern, high-speed steel roller coaster. Unlike traditional wooden coasters, steel coasters are made with tubular steel track which can be bent in any direction. This allowed Duell to incorporate tight turns into Trailblazer's ride.
The Trailblazer was located near Spring Creek and was incorporated the hillside, blending the ride into its surroundings.
The Trailblazer was 1,874 feet long and featured a series of tight curves that turned riders completely sideways. The ride had three trains with five cars each that could carry up to twelve hundred passengers per hour.
The Trailblazer along with the Dry Gulch Railroad was the beginning of the park's frontier theme area. Shortly after the Trailblazer roller coaster opened, the Park added the Trailblazer Theater and Saloon, building on the western theme.
Gallery
Click image to view larger
Search Encyclopedia