All You Need Are a Few Good Men…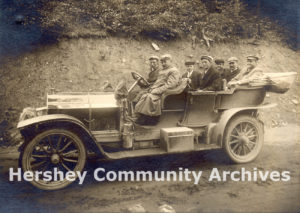 Milton Hershey had a genius for selecting talented, energetic people to help him manage his business ventures. The leadership and skills of these men freed Milton Hershey to pursue new passions and ventures, including Milton Hershey School, Cuba, and experiments with new products.
Foremost among Mr. Hershey's key managers was William F.R. Murrie. Bill Murrie began work for the Hershey Chocolate Company soon after the company was established. In 1896 Milton Hershey hired him as a salesman for the new chocolate business. His talents were quickly realized and he came off the road to manage the chocolate business. Through his career, you can chart the growth and success of chocolate sales. When he retired in 1947, his career spanned over 50 years.
He was promoted to President, Hershey Chocolate Company in 1908. Murrie was only 35 years old. He served as company president until he retired in 1947.
Milton Hershey did not enjoy the day-to-day tasks associated with building and managing a successful business. Murrie's skills and leadership managing the chocolate business freed Milton Hershey to pursue new passions.
As one of the Hershey community's earliest residents, Murrie also took an active role in recreational activities, particularly sports. For many years he managed one of Hershey's baseball teams.
Murrie's career came to a close shortly after Milton Hershey's death. By the time Milton Hershey was choosing the person to succeed him in managing all of his businesses, Murrie's health was beginning to fail. His eye sight was fading and he was over 70 years old. Milton Hershey recognized that Murrie was at the end of his career and selected P.A. Staples to take charge of the Hershey businesses and Milton Hershey School. Murrie retired in 1947 and moved to New Jersey. He died a few years later in 1950.
Gallery
Click image to view larger
Search Encyclopedia