Batter Up! Baseball and Hershey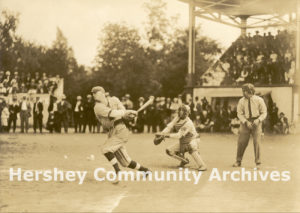 Hershey and baseball have been together for over a century. Soon after the opening of the Hershey Chocolate Factory in 1905, the community's first baseball team was assembled by John Snavely. Hershey fielded more than one baseball team, particularly after the Y.M.C.A. was established in 1910. In addition to local community teams, there was also an "Industrial League," which consisted of teams from the Knockout, Office, and Shipping Room departments (in the chocolate factory), battling the Improvement Company, Store Company, and Craftsmen teams. In the 1913 anniversary celebration, games against Lebanon and P.&.R. of Harrisburg were featured events. The teams were sometimes small in the early years, but the games played on the Hershey Park athletic field were often attended by large and enthusiastic crowds. Spectators packed the grandstands to watch Hershey take on teams from Elizabethtown, Lebanon, Harrisburg, and their intense rivals, Palmyra. The Hershey Press covered the games offering highlights as well as batting and fielding averages and league standings.
William F.R. Murrie, president of the Hershey Chocolate Company, managed many of the early baseball teams. As a young man Murrie played in a semi-professional league as a pitcher. He enjoyed many sports, particularly baseball. Players were drawn from the employees and community residents.  Several players were also recruited from the Carlisle Indian School. Several American Indian students worked in the chocolate factory in the summer, playing on Hershey baseball teams and other sports for Hershey teams during their stay. The Carlisle students came to Hershey because of a personal friendship between Bill Murrie and Glenn "Pop" Warner, the Indian School's football coach.
Milton Hershey even came close to owning a professional baseball team. Although no one is certain why, Milton Hershey strongly disliked William Wrigley, Jr., founder of the chewing gum company. Wrigley owned the Chicago Cubs, a professional baseball team in the National League. Milton Hershey sent John Myers, owner of a Lancaster baseball team, to try to purchase the Philadelphia Phillies baseball team, which would compete with the Cubs in the National League. While Milton Hershey would have overpaid to acquire the team, Myers refused to pay the $350,000 the owner was asking. Since Milton Hershey could not beat Wrigley on the baseball field, he began to manufacture chewing gum, selling six sticks in a pack instead of five, to try to compete with Wrigley.
Gallery
Click image to view larger
Search Encyclopedia