Army-Navy 'E' Award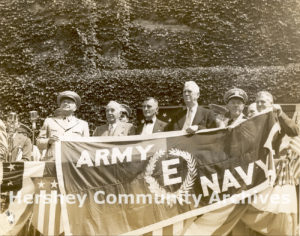 Hershey played a significant role on the home front supporting the war effort during World War II. In recognition of its outstanding efforts, Hershey Chocolate Corporation received the Army-Navy 'E' Production Award at a special ceremony held August 22, 1942. At the Award ceremony, Major General Edmond B.Gregory noted the company's achievements stating, "The men and women of Hershey Chocolate Corporation have every reason to be proud of their great work in backing up our soldiers on the fighting fronts." The Corporation received a flag to fly above the chocolate plant and a lapel pin for every employee. By the end of the war in 1945 Hershey Chocolate Corporation would receive a total of five Army-Navy 'E' awards.
The award was presented for exceeding all production expectations in the manufacturing of an Emergency Field Ration, better known as the Ration 'D' bar. It was an honor not easily won nor lightly bestowed. The wartime honor recognized businesses that consistently met high standards of quality and quantity in light of available resources.
In addition to providing large quantities of Hershey's familiar products for the military, the Corporation produced additional items for the Army, Navy and Marine Corps, including products for the Emergency Accessory Packet, 10-in-1 Ration, Field Ration 'K,' Field Ration 'C,' Life Boat Ration, Air Craft Ration and Prisoner of War package, as well as the Field Ration 'D' and Hershey's Tropical Bar, a confectionery product designed to not melt.