Building an Audience: ZooAmerica's "Creatures of the Night"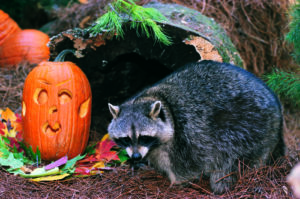 After ZooAmerica opened in 1978, funding was limited for the development of new exhibits. To promote interest in the zoo, ZooAmerica undertook a variety of novel marketing ventures to build a zoo audience.
On Friday, October 31, 1980 the zoo launched Creatures of the Night, an educational alternative for Halloween. Visitors were invited to bring a flashlight and experience the zoo by night.
The following year Creatures of the Night was offered on two nights: Friday and Saturday, October 30-31, 1981.
In 1992, Hersheypark wanted to join ZooAmerica's Halloween celebration. That year visitors could cross the Zoo bridge into the park and enjoy 6 rides: Flying Falcon, Kissing Tower, Antique Cars and the Red Baron, Dinosaurs and Convoy kiddie rides.  That year the event name was changed to Creatures of the Night… PLUS.
Over the next several years, Creatures of the Night began its transition to a Hersheypark oriented event. In 1997, visitors were directed to enter through Hersheypark gates.  Today the seasonal event is held over the 3 weekends leading to Halloween and is marketed as Hersheypark in the Dark.
Today, a visit to ZooAmerica's  Creatures of the Night event is included with admission to Hersheypark in the Dark. Guests can also choose to experience ZooAmerica's Halloween celebration on its own, by using ZooAmerica's entrance.