It's the Cocoa Bean, Baby
When it comes to their logos, most companies seek to create something that will serve as a visual symbol of the business–an image that will be recognizable without words. When changes are made, they are made to better communicate the core mission of the company. Brand visibility is critical when it comes to communicating to consumers: will your logo and other trademarked wrappers or designs instantly tell consumers that they hold a quality (and great tasting) product in their hands?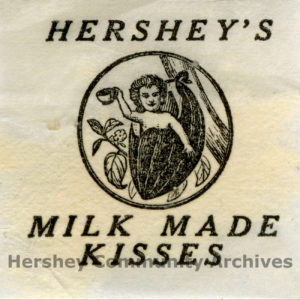 Like most major corporations, The Hershey Company trademark logo has changed over time. Shortly after Milton Hershey started his chocolate company he began searching for a trademark design that would reflect the promise of his new business. The first logo that he used was an intertwined 'H', 'C' and 'Co.' Unfortunately, this monogram wasn't very distinctive and it was soon replaced by a design that would represent the Hershey Chocolate Corporation for the next 70 years.
The Cocoa Bean Baby company trademark was introduced on August 1, 1898. The design reflected the newness and promise of the young company. The cocoa bean design reminded people that all the products produced by Hershey came from one main ingredient. The trademark was officially registered on June 26, 1906, for "chocolate, cocoa, sweet chocolate, milk chocolate, chocolate coatings, chocolate liquors, and chocolate powder." The trademark application stated the design featured "the representation of a portion of a vine bearing a broken cocoa bean, with the head, arms and shoulders of an infant projecting therefrom holding a cup in one hand."
Until about 1910, two versions of the Cocoa Bean Baby were used concurrently. Confectionery bar products featured a baby holding a bar of chocolate.  Cocoa and baking products showed the baby holding a cup of cocoa. The baby holding a bar was phased out after 1910. In 1968, the Cocoa Bean Baby was retired as the company's official trademark when the company reorganized as Hershey Foods Corporation.
Want to know more? Check out the this article to learn more about how the cocoa bean baby has been used.