It's Back to School!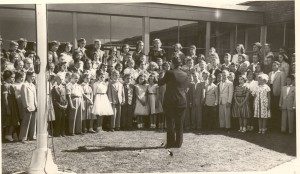 Milton Hershey's interest in and commitment to providing the town with quality public education led him to underwrite the cost of all the community's public school buildings constructed in Hershey during his lifetime. Continuing that tradition, in 1954 The M.S. Hershey Foundation presented the Derry Township School District with a new elementary school. The new building initially served students in Kindergarten thru Grade 3. In 1956, a 15 room addition was completed allowing the school to bring fourth and fifth grade students into the new building. In addition to classrooms, the elementary school contained a cafeteria, all-purpose room, music rooms, speech corrections office, health room, and administrative offices. In 1956 there were 1,104 students in the elementary school. Dedication ceremonies and a community wide open house were held on November 15, 1956. More than 2,000 people toured the new school building. The elementary school would be the last public school building totally funded by the Hershey Entities.
To learn more about the history of public education in Hershey, check out our history of education article.