Curry Mill Fire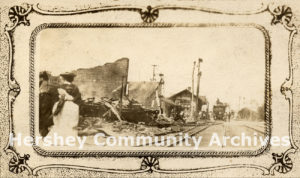 Hershey published a weekly newspaper from 1909 to 1926. It is a wonderful resource for learning more about the community's early years. Recently the Archives was able to have the newspaper digitized and indexed. The paper can be accessed through the Archives' website, on the "Collections" page.
The newspaper, The Hershey Press, was published under a variety of names, including Hershey's Weekly, Hershey's Progressive Weekly, and simply Hershey Press.
Often the newspaper provides more detailed information about events documented in photographs from the collection. A search for "Curry & fire" returned this article that provides detailed information about the tragedy. The photograph is brought to life by the information.
While caption recorded on the back of this photograph indicated that it had been taken after the 1914 Curry Mill fire, no other information existed about this traumatic event. Searching the Hershey Press database for more information about the fire provided important details. The fire broke out during Saturday night, May 30, 1914. When the alarm was given and fire fighters arrived, their efforts were hampered by a lack of water with which to fight it. It wasn't until a railroad steamer filled with water arrived several hours later that the fire fighters were able to put out the blazes in the mill and coal piles. For the full story check out the Hershey Press online.
Gallery
Click image to view larger
Search Encyclopedia