Golf Legend: Ben Hogan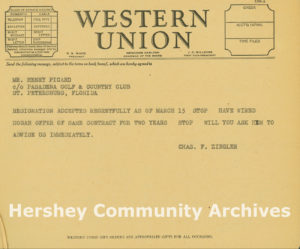 While Hershey is well known nationally for its iconic milk chocolate bar, Milton Hershey's model town attracted much attention for many other reasons. Hershey Country Club, established in 1930, received national attention shortly after it was established through its choice of golf professionals to represent the club. Shortly after the club opened Henry Picard, one of the game's best players, was hired as pro. When he left the job several years later, he recommended as his replacement a young player enjoying early success and who seemed to hold a lot of potential to emerge as a leading golfer:  Ben Hogan.
Ben Hogan began his golf career at age 11 working as a caddy. His first professional triumph came when he was 25 when he teamed with Vic Ghezzi to win the 1938 Hershey Four Ball, Ben Hogan won his first individual title, the North & South Open (in Pinehurst), in 1940.
In the Spring of 1941, Henry Picard was serving as the Hershey Country Club's Pro. Advised to live in a better climate for his health, he resigned from his position and moved to Oklahoma City, Oklahoma. To fill his position he recommended a young professional golfer, Ben Hogan, as his successor. Hershey Estates President Charlie Ziegler telegraphed Ben Hogan, who was at the Thomasville Open, asking him to please telephone him. Over the telephone the proposition was discussed and that day Hogan became the professional of Hershey's 54 holes of golf.
Hogan was still an up and coming professional golfer when he accepted the job as Pro for the Hershey Country Club. Unlike Picard who also served as a teaching pro in Hershey, Hogan's career focused on competition. His success brought prestige to his employer, the Hershey Country Club.
It was while he was representing Hershey that he experienced his most successful season. In 1946 he won 13 events. At the height of his career Hogan suffered a terrible accident. On February 2, 1949 his car collided head-on with a Greyhound bus on Texas 80, just outside Van Horn. He suffered a crushed pelvis, fractured left leg, crushed shoulder and broken ankle. He spent the next two months in the hospital. Yet barely more than 14 months later, at age 47 he won the 1950 PGA U.S. Open at the Merion Golf Club, Ardmore, PA.