Seeking Thrills: Hershey Park's First Roller Coaster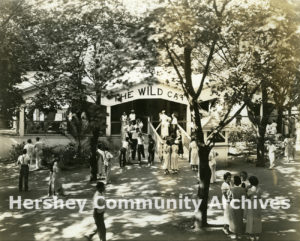 Hershey celebrated its 20th anniversary in 1923, and Milton Hershey's present to the town was a new roller coaster for Hershey Park.  Named the Wild Cat, it was nearly a mile in length and it had "more dips and deeper dips than any of like construction in America." It was put into operation on June 16, 1923. On its first day of operation no ladies were allowed to ride until the afternoon. Marion Murrie, daughter of Hershey Chocolate Company president, William F. R. Murrie, was the first female to ride the coaster. Kids were given free rides in the morning to break the ride in. The new roller coaster was briefly known as "The Joy Ride," but that name was soon abandoned and the more exciting name, "Wild Cat" was adopted.
The Wild Cat was designed by the great coaster designer Herbert P. Schmeck and built by the Philadelphia Toboggan Company (PTC) under his supervision.  (Schmeck also designed Hershey Park's first water flume ride, The Mill Chute). A note in the records of the PTC indicated the "length of Hershey Coaster – 2,321 feet – measured by Schmeck 8/6/23." PTC ran the Wild Cat as a concession for a number of years. The Wild Cat was 76 feet high and crossed Spring Creek on a specially designed wooden bridge. The Wildcat was advertised in the Hershey Press as costing $50,000. The Wild Cat lasted from 1923 until 1946. In 1935 it was redesigned by Schmeck. Its dips were made higher and the curves were more steeply banked. Construction was supervised by Frank F. Hoover.
In 1946 the Wild Cat roller coaster was replaced with the Comet.
Gallery
Click image to view larger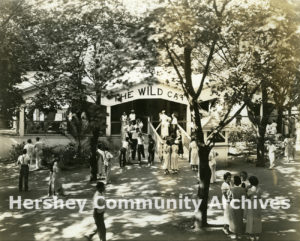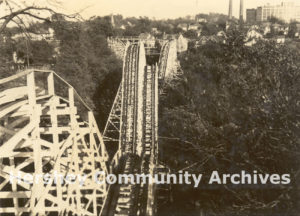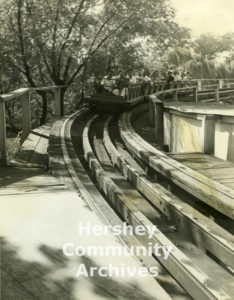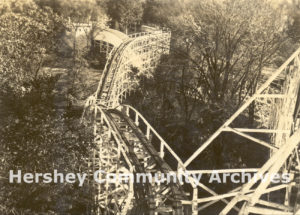 Search Encyclopedia