Following in Your Father's Footsteps?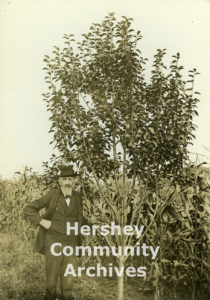 Milton Hershey's father, Henry Hershey, is a bit of an enigma. Henry Hershey came from a well-to-do Lancaster County Mennonite farming family. As the first-born (he had six siblings!), he should have been the responsible child, shouldering family responsibilities and following in his father's footsteps as a successful farmer.
However, Henry Hershey did not fit the mould as a typical first born child. His heart was not in farming but in learning, not something particularly valued by his practical and prosperous father. It appears that Henry tried to satisfy both his father and himself and ended up failing at both goals.
You have to wonder how Milton Hershey was influenced by his father's experiences and failures. Would he have had the opportunity to discover his passion for candy-making if he had been the son of a successful, prosperous farmer such as his grand-father rather than the son of a dreamer who chased rainbows but never found the pot of gold at the end?