Saving High Point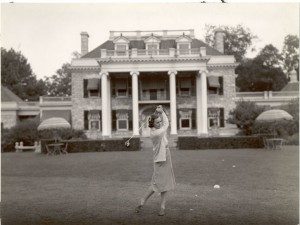 In 1930 Hershey Country Club was established and Milton Hershey offered his home, High Point, as its clubhouse, retaining two rooms on the second floor as an private apartment for himself. The Club converted the first floor rooms into dining rooms and built a free standing one-story structure as a men's locker room. By the late 1960s, Hershey Country Club wanted to expand and made plans to build a second golf course and a new clubhouse.
From 1970 to 1976, the mansion sat empty with only a caretaker living in an upstairs apartment. Rumors circulated that the aging mansion would be demolished and many in town viewed it as a white elephant.
Fortunately, William Dearden, a Milton Hershey School graduate, was made CEO of Hershey Foods Corporation in 1976. He had a strong vision for the company's future. To accomplish his goals, he created a new corporate staff and needed to find space for his executive team to work effectively apart from the day to day operations of the chocolate business.
To accomplish his goals he acquired High Point  in 1977 with the goal of renovating it to serve as the company's new corporate headquarters.
To make the house functional as a business office, extensive renovations were required.  While the first floor was kept largely intact, on the second floor walls were moved and also added to create office space. Hershey Foods made an effort to maintain architectural elements, duplicating trimwork and door styles. At times functionality won out such as when ceilings were lowered (covering up plaster trim and part of elaborate crown moldings) to allow the installation of modern HVAC systems. Hershey Foods also altered the look of the turn of the century mansion by installing wall to wall carpeting (hiding the inlaid hard-wood floors) and grass cloth as wall paper (all the rage in 1970s America).
Practicality also led to the elimination of some of the house's elaborate porches and sun room. Extensive wood rot and over-budget costs to repair/replace resulted in the decision to remove these parts of the house during its renovation.
Dearden's need to relocate his executive corporate team and his passion for protecting Milton Hershey's legacy saved High Point from possible destruction during an era in which many American cities defined urban renewal by destroying many architectural gems.