HersheyArchives@30, Part 10: "I Never Expected to Marry"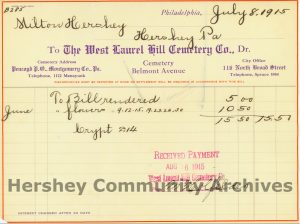 Catherine Sweeney Hershey died on March 25, 1915. Kitty, as she was affectionately known, and Milton Hershey shared a brief 18 years together before her death. A bachelor at the age of 40, Milton met the 26 year-old Kitty while on a sales call in Jamestown, New York. Something about Kitty must have instantly charmed him. They were married a year later on May 25, 1898.
Milton Hershey was a private individual who preferred to communicate via telegram and telephone. Receiving a telegram rather than a hand-written letter, frustrated Kitty, "You never saw anyone who disliked to write letters as he did." By word-of-mouth accounts, Milton and Kitty had a happy marriage and the couple doted on one another; yet in the absence of passionate love letters, what evidence exists to document their adoration?
Kitty was known to have a lively spirit and a warm and outgoing personality. With her, Milton had a refuge from the demands of work and the opportunity to be lighthearted and playful. Kitty enjoyed traveling and especially enjoyed meeting new people. Traveling the world together they could both let down the guard they maintained while in Hershey. Those who worked beside a serious and determined Milton Hershey in the caramel factory or the experimental plant might not recognize the man posing in a bathing suit cut-out.
Milton provided for Kitty's every need and wish. Not only did he buy her furs and Tiffany jewelry, but he brought her flowers every day. Raised by a strict Mennonite, Milton thought flowers were frivolous, but to Kitty they were a sign of beauty and happiness. She supervised the landscaping around High Point that included extensive gardens that were open to the public. After her death, Milton directed the construction of Hershey Gardens, remarking to horticulturist Harry Erdman, "The more beautiful you can make the place look, the better life the people will have."
At Kitty's funeral, Milton confided to her sister Agnes Smith, "I never expected to marry." Their marriage, although tragically brief, had a tremendous and everlasting influence on Milton. In 1909, unable to have children of their own, Milton and Kitty had established the Hershey Industrial School (now Milton Hershey School). Milton would always say that the school was, "Kitty's idea." Three years after her death, Milton gifted the school's trust fund with the bulk of his fortune, ensuring that her idea would continue on in perpetuity.
He also continued to bring her flowers.
#HersheyArchives@30
Gallery
Click image to view larger
Search Encyclopedia