HersheyArchives@30, Part 11: The Gift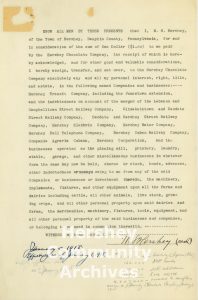 On November 15, 1909, Milton and Catherine Hershey signed a deed of trust establishing Hershey Industrial School (now Milton Hershey School). Approximately 486 acres of land were transferred to the School together with all assets contained on the property. All income, revenue, and rents derived from the property were to be used to support and maintain the School.
The previous day, November 14, 1909, Milton Hershey had signed a last will and testament directing the settlement of his estate. The will provided for his wife Catherine, various friends and relatives, and also the School. Under the terms of the will, the School would have acquired 3,000 shares of Hershey Chocolate Company stock and derived income from that investment.
Companies issue stock to raise money by selling a small part of the company to an investor, who is then referred to as a shareholder. Hershey Chocolate Company and a few other Hershey area businesses acquired or established by Milton Hershey, such as Hershey Transit Company, were all privately held companies wherein a small number of private shareholders could trade or exchange stock privately. Other Hershey businesses, such as the Hershey Laundry, Hershey Park, and Hershey Store Company were funded by personal investments made by Milton Hershey.
Although Milton was the primary owner of the Hershey Chocolate Company and the other businesses created to manage the town, these businesses operated as separate entities. That all changed in 1918. On January 5, 1918, but retroactively effective as of January 1, 1918, Milton Hershey assigned his ownership in all of the disparate businesses to Hershey Chocolate Company. Real estate, totaling approximately 7,695 acres, was also transferred to the chocolate company at the same time.
With his investments and property consolidated under one organization, a company in which he was the primary shareholder, how Milton Hershey chose to divest his shares could impact not only the Hershey Chocolate Company, but the entire community.
Following the death of his beloved wife, Kitty, Milton decided to "execute" his will during his lifetime. As it was Milton and Kitty's desire that Hershey Industrial School operate in perpetuity, on November 13, 1918, Milton Hershey "executed" his will and quietly gifted the School his stock in Hershey Chocolate Company. "I have no heirs—that is, no children. So I decided to make the orphan boys of the United States my heirs." Hershey Industrial School became the majority shareholder in all the enterprises established by Milton Hershey and the majority landowner in Derry Township.
#HersheyArchives@30
Gallery
Click image to view larger
Search Encyclopedia