HersheyArchives@30, Part 9: Hershey Zoo – From Angora Goats to Zebus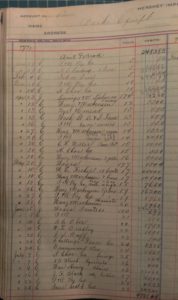 Within five years of Hershey Park's official opening additional attractions were introduced in the Park to supplement and enhance the guest experience. An amphitheatre, bandstand, dance hall, photograph gallery, and bowling alley were part of the Park's expansion; and in 1910, Hershey Zoo.
Franz and Louise Zinner, who moved to Lebanon, Pennsylvania from Heisenberg, Germany in 1899, persuaded Milton Hershey to open the Zoo as a community and visitor attraction. Franz had at one time worked with Carl Hagenbeck, a German collector and trainer of exotic animals, who later founded a privately-owned zoo in Hamburg, Germany. Aware of Franz's interest in animals, friends of the Zinners who had moved to the western United States, shipped them twelve prairie dogs.  Unable to keep them in their backyard, Franz Zinner contacted Milton Hershey about keeping the prairie dogs as a park attraction. The two men eventually decided to open a zoo, and Zinner and his family soon moved to Hershey to oversee the facility.
Prairie dogs are entertaining but they are a burrowing rodent and spend part of their lives out of view and underground. Just as Hershey Park expanded to offer a variety of attractions, Hershey Zoo needed to acquire additional animals.
A ledger in the Archives' collection details the first menagerie acquired for the Zoo.  Wenz & Mackensen was a firm based in Yardley, Pennsylvania that specialized in selling birds but at times dealt in more exotic animals. Wenz & Mackensen supplied the Zoo with bears, zebus, angora goats, and pheasants. Zinner supplied prairie dogs and H.E. Cudney, a New Jersey dealer, supplied deer. By the 4th of July holiday in 1910, the Zoo was a featured attraction.
The Zoo continued to expand over the years with animals that ranged from the mundane to the exotic. By 1940, the Zoo covered forty acres and contained individual houses for primates, carnivores, small mammals, antelopes, tropical birds, pheasants, and fish as well as outdoor cages and enclosures.
In the era before television, zoos played an important role educating the public about unfamiliar animals and environments. Hershey Zoo was the first attraction Milton Hershey introduced to the community that exposed residents and visitors to opportunities and experiences outside of those normally available in a rural Pennsylvania community. Many more would follow.
#HersheyArchives@30
Gallery
Click image to view larger
Search Encyclopedia