HersheyArchives@30, Part 12: Designing a Course Fit for a Pro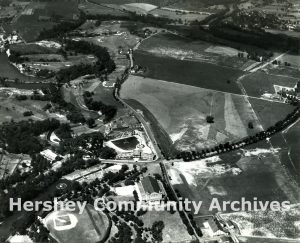 Hershey's first golf course opened in 1909.
Located along Chocolate Avenue, the 9-hole golf course was built near Milton Hershey's home, High Point. However, the chocolate factory's continual eastward development encroached on the golf course, shrinking its size to 5 or 6 holes. Local golfers were forced to go to Harrisburg or Lebanon to play a round.
In the late 1920s, Milton Hershey decided it was time to bring golf back to his community. He asked his engineer, Harry N. Herr, to develop a new 18-hole course on Pat's Hill. The site was chosen because Mr. Hershey planned to build what would become The Hotel Hershey adjacent to the course. Though he was a golfer, Herr had never designed a golf course. Undaunted, he proceeded to lay out an exceeding difficult course for the steep and hilly terrain on Pat's Hill.
Before construction could commence, Milton Hershey met with Maurice McCarthy, a nationally known golf architect. Hershey took him to view the proposed course on Pat's Hill. McCarthy discouraged its construction, suggesting that it was better suited for mountain goats rather than people.
Initially, McCarthy was hired to develop two courses. The first was for the soon to be established Hershey Country Club and incorporated the land of the original 9-hole course along Chocolate Avenue. The second course was the Hershey Park Golf Course along Park Boulevard.
The country club course was expected to surpass the National Golf Links of America in Southhampton, New York. The expectation was that the great tournaments would come here and Hershey would have the honor of hosting the United States Open Championship, commonly known as the U.S. Open. In 1930, Milton Hershey's home, High Point, became the clubhouse for the new country club.
The second course designed by Maurice McCarthy was the Park Golf Course. Hershey Park Golf Course (later Parkview) was designed to serve as Hershey's public course. A challenging course, incorporating Spring Creek and its surrounding hills, the Park Golf Course, was reasonably priced and popular with community residents and visitors alike. For $1.00 ($1.50 on weekends) a player was entitled to play all day. Greens fees also included swimming privileges in the Hershey Park Pool.
The success of these courses sparked a demand for golf in Hershey. Encouraged by the public's interest, Milton Hershey commissioned Maurice McCarthy to design and build two more courses for the community. In 1932, the 9-hole Juvenile Golf Course (today Spring Creek Golf Course) opened. This course, built around the meandering Spring Creek, was developed to serve boys and girls under the age of 18.
The last course developed by McCarthy for Hershey was an executive 9-hole course for The Hotel Hershey. This course opened May 4, 1934.
With Maurice McCarthy's help, Hershey became a mecca for golfers offering 54 holes of golf for every skill level and making Hershey the "Golf Capital of Pennsylvania."
#HersheyArchives@30
Gallery
Click image to view larger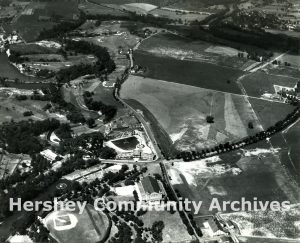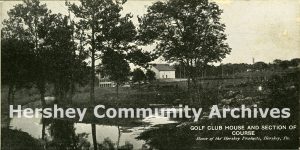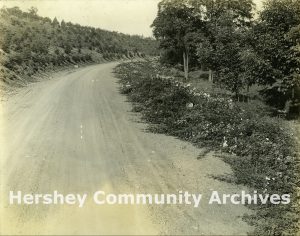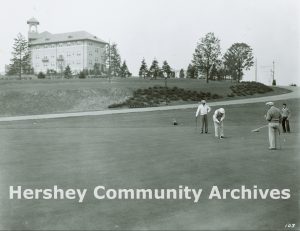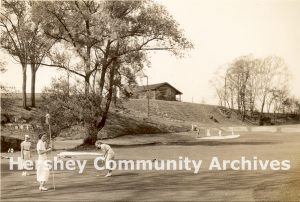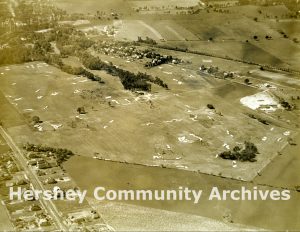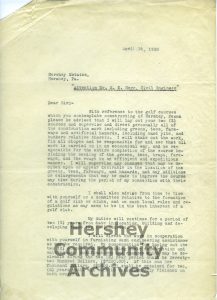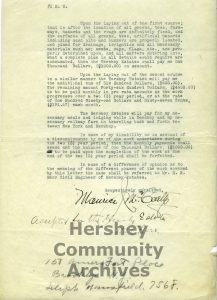 Search Encyclopedia