HersheyArchives@30, Part 28: The Wonderful World of Chocolate – Hershey's Chocolate World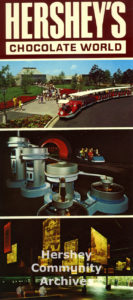 Hershey began offering tours of its chocolate factory shortly after the factory opened.  By 1915, visitors could register for a tour at the town's Visitor Bureau, located in the Cocoa House, on Chocolate Avenue.
In 1928, the factory began keeping formal statistics about factory tours. A factory tour was a popular part of a visit to Hershey.
By 1970, almost one million people were touring the factory each year. The factory was not designed to handle so many people. So many visitors were causing traffic jams downtown, overwhelming the building capacity and creating risks for product safety.
Ken Bowers, who came to Hershey Foods Corporation in 1970 to head up the public relations department, remembered that a task force had been assembled to determine how best to address the challenge of a factory tour that had outgrown its capacity. He recalled that the committee considered three options:
One, to simply terminate the tour program, because it had gotten to the point where it was creating problems for the plant. It was creating problems traffic-wise, congestion-wise for downtown Hershey. And there were plenty of other corporations who had had tours that were beginning to lop them off and close them and it would not have been setting a new precedent. So that was a very real possibility.

A second big possibility was to do rather extensive renovation in order to keep that tour program, by putting it, perhaps, into the ceiling of certain of the rooms so it would not interfere with production, with glass-enclosed walkways or something where people could not potentially throw things into the vats of chocolate, etc.

And, of course, the third basic choice was to develop something new, different elsewhere, a mini factory kind of thing. Those were the three things that were discussed at great length, with a considerable amount of research attached to each one.
While the option to simply discontinue the factory tour was one of the options, it was not seriously considered. Hershey Foods Corporation recognized the great value the tour offered in terms of consumer relations and it was particularly important in a town like Hershey, which had a strong orientation towards tourism. Likewise, it was quickly realized that the factory would not lend itself to being remodeled to accommodate touring guests.
Even after deciding to build a new facility a number of decisions remained. Should it be a model factory, actually producing product or should Hershey build a facility that would lend itself to longer hours of operation and be attractive to a broader audience. Deciding between these two options was not a simple matter. The task force spent considerable energy debating the pros and cons of building a model factory versus visitor center that could explain how Hershey produced its milk chocolate.
The task team's final recommendation was to "establish [a] Visitors Tour Facility in the general area of the existing Park/Stadium complex." Acting on the task team's recommendation, Hershey Foods decided to build Hershey's Chocolate World, a corporate visitor center that could welcome the millions of people visiting Hershey each year and would teach visitors how Hershey's milk chocolate is made in a fun and informative way.
Hershey Foods Corporation hired R. Duell & Associates to develop concept and design plans for the new visitor center. The firm was already working on design development plans for Hershey Park's modernization and expansion. By employing the same firm, Hershey Foods Corporation was able to benefit from R. Duell & Associates already acquired understanding and knowledge of the general site and better coordinate how the two facilities might best interact with each other. R. Duell & Associates played a significant role shaping the direction and scope of Hershey Foods' new visitor center.
The new visitor center was located near Hersheypark's newly constructed "tram circle."
Plans called for the visitor's center to illustrate the steps necessary for manufacturing chocolate, from growing and harvesting cocoa beans, through the manufacturing steps to produce Hershey's milk chocolate. Plans also called for an enlarged retail area, a small café and gift shop, and a company history display.
The last public Hershey Chocolate factory tour was held June 29, 1973 and the new Hershey's Chocolate World opened the next day.
#HersheyArchives@30
Gallery
Click image to view larger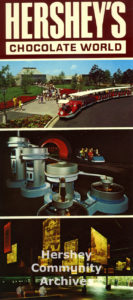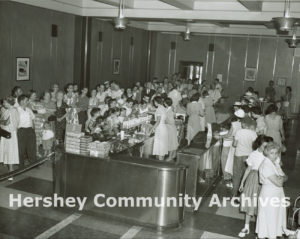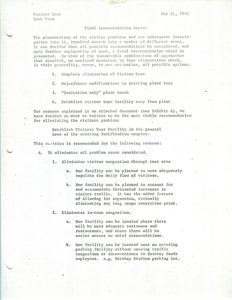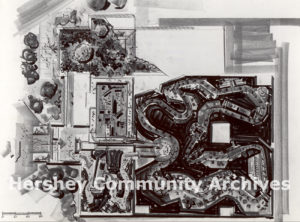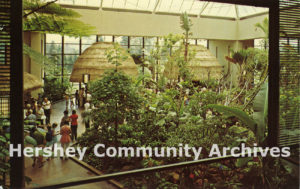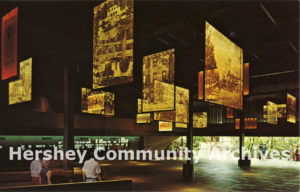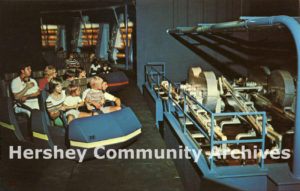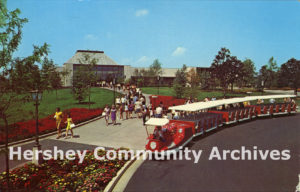 Search Encyclopedia