Mourning Milton Hershey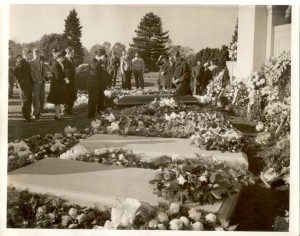 Until his death, Milton Hershey's interest in new ideas and his concern for the well being of others remained a constant thread in his life. He lived to see the end of World War II and died on October 13, 1945, one month after his 88th birthday. True to his priorities, his will directed that his estate be used to establish a trust fund benefiting Hershey's public school system.
On the day of his funeral, the town came to a halt. Thousands honored him at a viewing and funeral service held at Senior Hall. Afterwards he was laid to rest alongside his parents and his wife, Kitty, in the Hershey Cemetery.
Gordon Rentschler, who had worked with Milton Hershey for 30 years and was chairman of the Board for National City Bank of New York, sent a telegram of condolences which included this memory of the man:
I admired him from the beginning. It was always an inspiration to see the way he calmly and quietly and tenaciously fought his way through one obstacle after the other until he achieved his big success. And it was an inspiration, too, to find that he measured success, not in dollars, but in terms of a good product to pass on to the public, and still more in the usefulness of those dollars for the benefit of his fellow men. His life and work will always remain a great inspiration to us all.
Gallery
Click image to view larger
Search Encyclopedia