In Milton Hershey's Memory: Cocoa Avenue Plaza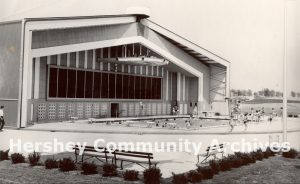 Just prior to his death, Milton Hershey set aside 18.25 acres to create Memorial Field, a community park with a playground and sports fields in the heart of residential Hershey. Plans for Memorial Field were extensive and not all could be developed at first.
Several years later, Sam Hinkle, president of the Hershey Chocolate Corporation, decided to expand the existing Memorial Field with several amenities, some of which had been envisioned in the original plans for Memorial Field. When plans for the new facility were announced, Sam Hinkle was quoted in a Hershey News article that the new recreational facility was "being built as a memorial to the late Milton S. Hershey, town founder." The article went on to explain that the Cocoa Avenue Plaza was being built and constructed with Chocolate Corporation funds.
Laurie & Green, a Harrisburg, PA architectural firm, designed the new facility. Inspired by Milton Hershey's love of innovation, plans for Cocoa Avenue Plaza incorporated modern and innovative design and engineering. H.B. Alexander and Sons, Inc. of Harrisburg, PA was selected as the general contractor for the project. The new pool, was built to then current NCAA standards, and could function as an indoor or outdoor facility, thanks to its retractable roof. John Zerbe, then in charge of Hershey's recreation program, described the unique features of the pool complex in his 1996 oral history:
It was probably the first swimming pool [of its kind] in the country like it, and we had people from all over the country come in to look at that building, but it was the first pool in the country to actually use almost a water company quality chlorination process. It was the first pool in the country to use PVC piping all around, and obviously, it was the first pool in the country to use the kind of opening-dome design that we used. The real structural design of that was absolutely phenomenal, and it all basically rotated on a humongous pin at the top.

I thought that design and the corporate resolve here to build that kind of a building was very visionary. I can't imagine too many corporations willing to go after that kind of design and see it through.
Dedication of the Plaza was originally planned for September 13, 1963. However, delays in finishing work and time needed to trouble shoot the new mechanical systems caused the dedication to be delayed. All construction was finally completed on October 12 and the dedication ceremonies were held on October 20, 1963.
Gallery
Click image to view larger
Search Encyclopedia