Samuel F. Hinkle, 1900-1984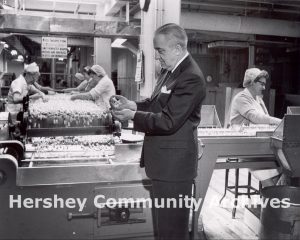 The Early Years
Samuel Hinkle graduated from the Pennsylvania State University in 1922 with a degree in industrial (now chemical) engineering. Following two unsatisfactory industrial laboratory jobs in Canada, he returned to Lancaster County, Pennsylvania. Hinkle contacted the Academic Department at Penn State and was referred to a job opening at the Hershey Chocolate Company. President William Murrie hired Hinkle in spite of his lack of experience with food chemistry. He began his career as a plant chemist in November 1924.
Hinkle's first job was to analyze fat, sugar and milk content in products. In a 1975 oral history interview, Hinkle remembered that initially his job in the laboratory was routine and not very exciting. However, he slowly developed the lab, increasing the staff as responsibilities grew. In the same interview, Hinkle also shared vivid memories of developing the formula for Mr. Goodbar in 1925.
We'd been experimenting with a peanut bar, peanuts being a popular product with the American people. We decided we'd better use Spanish peanuts rather than Virginia peanuts. We came up with this Spanish peanut, a small round peanut, and we left the little red shell on the outside. We called it roasted, but we really were frying the peanuts in fat and combining them with our milk chocolate. We began to think about a name. Actually, it was Mr. Hershey who really came up with the name. Someone said, 'That's a good bar.' And his (Mr. Hershey's) hearing being a little bad, he thought they said, Mr. Goodbar. So he named it Mr. Goodbar.
Hinkle also developed the formula for Hershey's Syrup in 1926.
More New Products
Hinkle actively experimented with new product ideas during the 1930s. Milton Hershey often joined him in the lab, full of ideas for new combinations. Hershey Chocolate introduced several new products during this time, such as Mild and Mellow, Not-So-Sweet (today's Special Dark), Krackel and Hershey's Miniatures. Hershey Chocolate Corporation also manufactured Aero and Biscrisp (today's KitKat) bars under license from the British Rowntree Company.
It also was during this time that Hinkle worked with Captain Paul P. Logan of the Quartermaster Corps in Washington, D.C., to develop an emergency survival ration for the troops. It was designated as Field Ration D. Hershey Chocolate produced literally millions of ration bars during the war years, earning the corporation five Army-Navy "E" Awards.
From Plant Manager to President
P.A. Staples appointed Hinkle Plant Manager in 1947 when Bill Murrie retired as President of the Chocolate Corporation. (At the time, the position of Plant Manager was equivalent to the present-day position of President, Hershey Chocolate North America.) Hinkle's contributions to the company quickly shifted from the narrow focus of product to the broader field of plant management.
One of the first things Hinkle did was to begin building a production management team. He hired the first wave of professionally trained engineers, many straight out of college. He established a supervisor training program to identify and train selected employees. Hinkle brought in people such as Harold Mohler, Earl Spangler, Louis Smith, Bob Schock and Charles Schell. Hinkle's early efforts in growth and development were concentrated in production. His efforts to begin building management teams in other areas would not start until after he was appointed President in 1956.
P.A. Staples' death on July 23, 1956, forced dramatic changes in the leadership of all the Hershey entities. Hershey Trust Company, Hershey Estates and Hershey Chocolate Corporation were reorganized. At Hershey Chocolate, General Sales Manager J.J. Gallagher was elected chairman of the board. Sam Hinkle, who had served as plant manager since 1947, was promoted to president of the Chocolate Corporation.
One of Hershey Chocolate's strengths over the years has been the unique talents and skills that each President or CEO has brought to the company. Hinkle was no exception. He was a man of action and a "people person." The Hershey Chocolate Corporation came alive under his leadership and began laying the groundwork necessary to challenge the competition in the 1970s.
One of Hinkle's greatest skills was recognizing and developing talented people. He transferred Harold Mohler from the plant and appointed him Assistant to the President in 1957. A young Milton Hershey School alumnus, William Dearden, was also hired in 1957 to assist J.J. Gallagher, head of Sales and the new chairman of the board of directors. Dick Zimmerman was hired as an administrative assistant to Hinkle in 1959. Each of these men would have a dramatic impact upon the corporation in the future.
The factory continued to remodel and upgrade departments and equipment following Hinkle's promotion to President. Significant changes were made in the Syrup and Kiss moulding departments and the first Jensen lines were added in the bar moulding department.
However, factory upgrades were not enough to handle the growing demand for Hershey Chocolate products. Freight costs for shipping product to the Western part of the United States were steadily increasing. Hershey Chocolate Corporation clearly needed to expand. Building a new plant on the West Coast seemed like a good solution.
Building a new factory seemed like the right thing to do. However, many in Hershey were concerned that a new plant would not be able to duplicate the famous Hershey's flavor. Moreover, since the cost of building a large factory on the West Coast would be considerable, it seemed to make sense to first build a smaller, less expensive plant. Hershey hired a facilities consultant to make location recommendations. The ideal location would consist of:
a small, friendly community, more rural than urban;
with an adequate supply of workers;
an outlying area of dairy farms; and,
access to both rail and truck transportation.
Smiths Falls, Ontario, Canada, was ultimately chosen as the location for the first plant outside of Hershey, Pennsylvania. The company broke ground in 1961 and the plant opened on June 15, 1963. Smiths Falls initially struggled to duplicate the famous Hershey's taste. Employees persevered until they got it right, only to discover that Canadians preferred a milkier, European flavor of milk chocolate. Despite this, the Smiths Falls Plant did prove that the company could successfully manufacture milk chocolate somewhere outside Hershey. Hershey Chocolate Corporation subsequently announced plans to construct a chocolate plant in Oakdale, California, in 1963. The Hershey Western Plant opened approximately two years later, on May 22, 1965.
Hinkle knew that the key to Hershey's long-term success laid not only in increasing production capacity, but also in broadening the product line. A wonderful opportunity was waiting just down the street in Hershey, Pennsylvania.
The H.B. Reese Candy Company, a privately owned confectionery company, had operated in Hershey since it was established in 1923. Founded by Harry B. Reese, who had died in 1956, the company bought all of its chocolate from Hershey and was a good customer. By joining the two companies, Reese would benefit from Hershey's national market and Hershey would acquire a top-selling product. The sale was completed in 1963.
Hinkle had a broad vision of Hershey Chocolate's role in the local community and beyond. He believed that Hershey Chocolate's corporate responsibilities surpassed ensuring the continuation of the Milton Hershey School. Just as Milton Hershey had provided recreational facilities for the town of Hershey during his lifetime, the Hershey Chocolate Corporation constructed the Cocoa Plaza recreational center and swimming pool in 1963. The facilities were given to the township for all to enjoy. That same year, Hinkle arranged for the installation of Hershey's trademark streetlights, designed in the shape of wrapped and unwrapped Hershey's Kisses chocolates. Locally, the streetlights were referred to as "Hinkle's Twinkles."
Hinkle's desire to serve others stretched beyond the borders of the Hershey community. West Africa had emerged as the primary source for cocoa beans by the 1950s. To support these nations, specifically Ghana and Nigeria, Hershey Chocolate Corporation established a special program called Teachers for West Africa. It was administered by Elizabethtown College in nearby Elizabethtown, Pennsylvania. The program began sending teachers to these developing nations in 1961. A total of 258 teachers were sent over the next 11 years. Hershey Chocolate fully funded the program, spending over $1 million.
The Milton S. Hershey Medical Center and Teaching Hospital is possibly Hinkle's most significant contribution to the Hershey community. As a member of the Hershey Trust Company Board of Directors, he was concerned about the rapidly growing surplus income in the Milton Hershey School Trust account. With his leadership, the Board arranged a $50 million gift to The Pennsylvania State University for the purpose of starting a medical college and building a teaching hospital. The internationally recognized medical center today serves South Central Pennsylvania, offering the finest in biomedical research, health professional education and patient care.
Hinkle focused much of his attention on the developing Medical Center until his retirement in 1965. As his involvement with the company lessened, opportunities emerged for rising executives like Bill Dearden, Dick Zimmerman, Harold Mohler and Earl Spangler to assume more responsibility and spread their wings.