Learning a Trade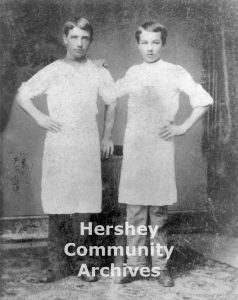 Many of us are not  familiar with the story of Milton Hershey's youth; before his financial success. This Milton Hershey was the teenager who first discovered his gift for candy-making at Royer's Ice Cream Parlor and Garden, Lancaster, Pennsylvania.
Milton Hershey's first job was not as a confectioner but as a printer's devil in 1871 for a German language newspaper in Gap, PA, called Der Waffenlose Waechter or the Weaponless Watchman. Milton's father, Henry Hershey, thought working for a newspaper would make Milton a "man of letters." Unfortunately, Milton hated the work and was considered clumsy when handling printing type with his farmer fingers. After spending a few months as a printer's devil, Milton was eventually fired for his ineptitude.
Milton's mother, Fanny Hershey, believed that her son should learn a trade where he would make something useful. When Milton expressed an interest in the confectionery trade, Fanny arranged for him to work as an apprentice in Royer's Ice Cream Parlor and Garden located on 50-52 West King Street in Lancaster, Pennsylvania in 1872.
His father did not approve of Milton entering this line of work, as he felt confectionery work was "woman's work." Henry and Fanny's disagreement about their son's future was one of many they had during the course of their marriage. Henry soon left Lancaster and moved west to seek fortune in Chicago and Colorado.
During his apprenticeship Milton Hershey and his mother resided in a number of locations in the city. There is mention of the two living at Frederick Cooper's Red Lion Hotel at 35-37 West King Street, across the street from Royer's. There is also a record of them living on the 200 block of Prince Street.
Royer's was a popular destination in town and was perhaps best known for its ice cream garden. The garden was located behind the shop and was enclosed with bushes, trees and vines, creating a cool and pretty place to relax and enjoy an ice cream. Royer's sold a heaping plate of their own ice cream for ten cents. Their most popular dish was a plate of ice cream with lemon squares. The confectionery store's popularity was noted in a 1909 article in the Reading Eagle newspaper:
Every student who has been at Franklin and Marshall College remembers Joe Royer. It was his confectionery with ice cream garden attached that the students visited and to which they took their girls.
Joseph P. Royer, the proprietor of Royer's,  was a true confectioner of his time, making not just ice cream, but all kinds and varieties of candy. The confectionary treats at Royer's included caramels, cough drops, bon-bons, rock and sugar candies, as well as ice cream and lemon pastries. Chocolate at this time was not widely available. Any chocolate confections at Royer's would probably have been limited to chocolate coated and flavored candies.
Milton did not learn the candy trade immediately. As a new apprentice, Milton waited on tables, took orders at the counter, and delivered ice cream and treats to customers' houses. His first jobs in the kitchen seemed to revolve around washing dishes and ice cream cans. The hardest job he was assigned was turning the handle of the big ice cream freezer. It wasn't until his mother intervened and offered more money to Royer that Milton began to work in the kitchen. At this time Royer began to teach his apprentice the art of candy making. He soon discovered that his pupil had a gift for mixing ingredients and creating candies. Candy made in the 1870s was created through experimentation and with traditions passed down from generation to generation. Recipes were very vague, consisting of ingredients and some general instruction. Many were not written down but created from memory. Milton Hershey had to learn how to combine ingredients, and to understand the role of heat and time. He had to learn how to feel the crack of the candy, the right moment to remove a batch from the kettle. With this process of trial and error, there were often blunders along with success. Later in his life Milton Hershey recounted the time at Royer's when he was given responsibility for roasting peanuts for peanut fudge. Friends encouraged him to come with them to go view a show in the Fulton Opera House, located around the corner from the confectionery shop. While enjoying the show Milton began to smell burnt peanuts. Reminded of his responsibilities, he left the theatre and was greeted by a shower of peanut shells falling onto the street and Royer's ice cream garden. In his haste to get to the show, Milton had forgotten to turn the blower off and the burned shells were coming up the flu and blowing around like leaves.
Milton Hershey worked for Joseph Royer for almost four years. In 1876, with his apprenticeship completed, he left Lancaster to establish his own candy business in Philadelphia.
While Royer's had developed Milton Hershey's innate gifts for candy-making, Milton still had much to learn about the confectionery business. The next ten years would provide him with hard and important lessons about suppliers and customers, product lines and marketing. It would not be until Milton Hershey returned to Lancaster in 1886 that he would finally achieve financial success as a confectioner. In spite of his early business struggles, the early lessons learned at Royer's provided Milton Hershey with the confectionery skills that would form the foundation of his future success.
Gallery
Click image to view larger
Search Encyclopedia