Looking Back: Hershey's First Chocolate Products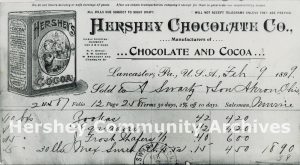 In February 1894, Hershey Chocolate Company was established after Milton Hershey purchased some chocolate making machinery he had seen exhibited at the 1893 Columbian Exposition in Chicago. Mr. Hershey was excited by the challenge of learning to make a different confectionery product: chocolate. Before long, he was making semi-sweet chocolate for use with his caramel products. He also began marketing a line of chocolate products known as "sweet chocolate novelties."
Hershey was years away from developing his formula and process for making milk chocolate, the confectionery treat that would make his future fortune. Unlike the Hershey's Milk Chocolate bars, that are a part of our American psyche, Hershey's chocolate products had imaginative names and were wrapped in colorful, fanciful packaging. They were moulded into cigars, cigarettes, sticks, batons, wafers and other fanciful shapes.
Even after Hershey's Milk Chocolate was introduced and became America's chocolate bar, Hershey continued to produce and market these products until February 1917.
We know we would buy these products just for the packaging; we hope you enjoy this glimpse at Hershey's earliest products.