Providing for the Community: Hershey Hospital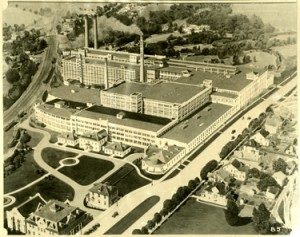 Milton Hershey's commitment to providing a wide range of services was impressive.  While opportunities for education, recreation and cultural activities have often been described in various publications and other venues, his commitment to ensuring the health of his community is not often discussed.
Hershey's first health facility opened in 1918 in response to a devastating influenza epidemic. As need grew, a health clinic opened in 1921 and Hershey's first hospital was established in 1924. Located in the Gingrich house on East Chocolate Avenue (just across the street from the chocolate factory), it offered 10 beds. Nurses' quarters were provided in Fanny Hershey's old house next door.
When the Community Building was completed in 1932, the hospital moved to the building's 5th floor. The ambulance entrance was located on Caracas Avenue. This hospital held 20 beds. Nurses' quarters were located on the 6th floor. At the same time, a separate infirmary was built on the campus of Hershey Industrial School (now Milton Hershey School). This clinic was created to provide healthcare for the school boys.
However, as it turned out, the new infirmary was under-utilized. The students' health was generally good. So, on March 15, 1941 the Hershey Hospital and the Hershey Industrial School Infirmary were consolidated and Hershey's hospital moved to the red brick facility on Governor Road. This location offered 50-70 beds, an operating room and dental and orthodontic departments.
At the new Hershey Hospital, patients could be hospitalized for uncomplicated childbirth, minor surgery, and important but not life threatening illnesses. Hershey relied on specialists and surgeons to provide services not offered by the community's general practice doctors. Complicated medical conditions required patients to be transferred to other area hospitals in Harrisburg, Lebanon and Lancaster. Hershey Hospital was an important part of the community's health services for many years.
In 1963, plans to build a teaching hospital and medical school in Derry Township were announced. On October 14, 1970, Hershey Hospital closed and its patients were transferred to the Penn State Milton S. Hershey Medical Center. While many in the community mourned the closing of the community hospital, the Hershey Medical Center brought a whole new level of sophisticated and cutting edge medical care to the region.
Want to know more? Check out the Archives' oral history collection for more stories about medical practice and the role Hershey Hospital played in the community.
Gallery
Click image to view larger
Search Encyclopedia