Welcoming Spring in Hershey: Easter Flower Shows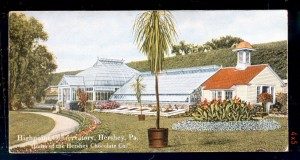 One of the highlights of Hershey's Easter season were the flower displays presented each spring in conjunction with Easter. First presented in Milton Hershey's private greenhouse in 1909, the displays grew more elaborate each year and expanded as new conservatories were built.
The conservatories were open year round and were a popular destination in the winter months. The Hershey Press provided detailed reports of the flora displayed in the greenhouses. During the colder months the greenhouses were filled with the many palms, rubber trees, ferns and that were placed throughout Hershey during the warm months. In addition the greenhouses were used to propagate bedding plants such as coleus, geraniums, and begonias that would be planted throughout the community in its many flower beds.
The Easter displays quickly became an annual tradition in Hershey. The event, initially held on Easter afternoon and later expanding the the entire week before Easter, drew thousands of people to see elaborate displays of blooming Spring blooms and other flowers.
The fifth annual Easter Flower Show was held in 1913, the town's 10th anniversary. Both conservatories were opened for visitors on Easter Day from noon to 6 p.m. The flower variety was impressive, including Chinese baby primroses, California poppies, red African daisies, lilies and cyclamens as well as hundreds of tulips, hyacinths, and daffodils. In addition the the elaborate floral exhibits, guests were treated to the fun of seeing tropical birds, fish and even the zoo's alligators who were housed in one of the conservatories.
The show was enlarged in 1914 with the addition of a new conservatory located in the Hershey Zoo. The lower level of this conservatory served as winter quarters for several zoo animals.
In 1917 the show was further expanded when the old laundry (future Zoo entrance building) was repurposed as a Horticultural Hall.
The show was discontinued in 1918 and it was not reestablished for several years. In 1930 Hershey constructed a new expansive greenhouse. With the new structure, Hershey was inspired to reestablish the Easter Show tradition. It is uncertain when it was restarted. The first reference to the revived Easter Flower show appears in a 1935 issue of the Hotel Hershey Highlights. The article also mentioned the success of the 1934 show. The Flower Shows continued throughout the 1930s. The last show was held in 1942 and was discontinued the following year because of wartime restrictions.