So Long, Until Tomorrow: Lowell Thomas and Hershey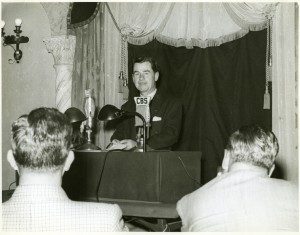 Lowell Thomas was a man ahead of his time: the first roving newscaster, a film maker through the 1920s, a radio presenter in the 1930s, an adventurer who wrote more than 50 books.
As a pioneer in radio broadcasting, Lowell Thomas brought the world to the United States' living rooms with his around the world eyewitness accounts. Born in 1892, before he began his career in radio he traveled the world, writing and lecturing. It was during World War I that Thomas gained his celebrity status with his film of T.E. Lawrence, then captain in the British army in Jerusalem. The film, With Allenby in Palestine and Lawrence in Arabia made Lawrence and Thomas household names.
In 1930 he became a broadcaster on CBS radio. Two years later he switched to NBC radio but returned to CBS in 1947. He is particularly well-remembered for his highly detailed radio news reports during World War II often broadcast from a mobile truck located just behind the front lines.
Lowell held an enduring fascination with the movies. He was the narrator for Twentieth Century Fox's Movietone newsreels until 1952. When television became a popular medium, Thomas hosted a successful series during the 1950s, High Adventure and then again in the 1970s with Lowell Thomas Remembers.
Lowell Thomas enjoyed an long relationship with Hershey. He first became associated with  Hershey as the narrator for the Hershey travelogue movie, Seeing Wonders, completed in 1933. His enthusiasm and colorful language were often memorable. In the film, Thomas declared that the new Hotel Hershey was "a palace that out-palaces the palaces of the Maharajahs of India." Thomas would return to Hershey several times over the next couple decades, broadcasting his shows from the Hotel over the NBC and CBS radio networks.