Playing to Win: The Hershey Open Golf Tournament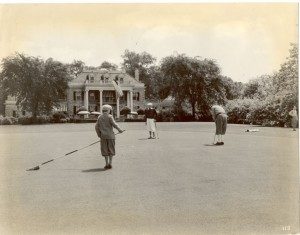 Hershey Country Club was formally established when Milton Hershey hosted a dinner party at his home, High Point, for one hundred of his friends on April 27, 1930. Preceding dinner, Mr. Hershey announced he was donating his home to the new Hershey Country Club for use as a clubhouse. He went on to explain that the Club was to be established for the recreation and enjoyment of his friends, Hershey employees, as well as residents of the Hershey community. At this point, Milton Hershey asked his guests to lift their plates. Underneath each plate was a Hershey Country Club Charter Membership card for each guest.
In 1933 the Professional Golfers Association urged the Hershey Country Club to put on a tournament. Hershey Country Club accepted the idea and established an invitational Hershey Open Golf Tournament. First held in 1933, the purse of $5,000 rivaled that of the U.S. Open and attracted some of the game's best players.
The Tournament was held for several years. The winners were:
1933     Ed Dudley
1934     Ky Laffoon (French Indian golf star of Denver)
1935     Ted Luther
1936     Henry Picard
1937     Henry Picard
In 1938 the format was changed to a Round Robin Four-Ball Invitational. That year the team of Ben Hogan and Vic Ghezzi took first place. The tournament returned to its traditional format the following year and was won by Felix Serafin.
The Hershey Open was not held in 1940. In its place, Hershey Country Club hosted the PGA U.S. Open. In that tournament Byron Nelson edged Sam Snead 1-up to win the PGA Championship. The ninth and last Hershey Open Golf Tournament was held August 28-31, 1941.
Gallery
Click image to view larger
Search Encyclopedia