HersheyArchives@30, Part 18: Only Hershey's Kisses are Kisses
Consumers associate a trademark with their experiences with the quality of the product or service the trademark represents. Milton Hershey prided himself on manufacturing quality products believing quality was "the best advertising in the world." Hershey Chocolate Company trademarks and trade dress were consistent across the product line so a Hershey's Milk Chocolate bar was easily identifiable as being from the same company as Hershey's Cocoa. "Hershey's" meant quality to consumers and it has always been important to the company to maintain the positive association that Milton Hershey established.
In 1905, the Societe Generale Suisse De Chocolats, manufacturers of Peter's Chocolate, brought suit against the Hershey Chocolate Company arguing that Hershey's Milk Chocolate bar wrappers were too similar to those of Peter's and caused consumer confusion. Milton Hershey was ordered to change his design and subsequently adopted the now iconic maroon and silver wrapper. Although he lost the case, Peter's Chocolate's legal action introduced Mr. Hershey to the value of intellectual property and brand protection. When his next product, Hershey's Kisses, was introduced in 1907, Mr. Hershey diligently surveyed the marketplace for products too similar to Hershey's Kisses. With an eye toward both product quality and differentiation, under his leadership the Company took steps that would forever endear Hershey's to a growing base of loyal customers.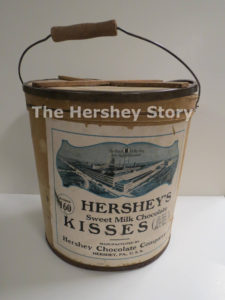 Hershey's Milk Chocolate Kisses were initially available for purchase in bulk and later in 10 cent boxes. From 1907 until 1921, consumers could identify the Hershey's Kisses that were sold in bulk (meaning sold either by a specified number of Kisses or by weight) by their display container and by nearby point-of-purchase placards. The only other means of identifying the product as Hershey's was a square piece of tissue-paper printed with Hershey's Cocoa Bean Baby trademark, which was placed underneath the chocolate and wrapped inside the foil wrapper. The problem was that the buyer could not see the Hershey's Kisses brand identification until after the chocolate was unwrapped, allowing competitors room to flourish.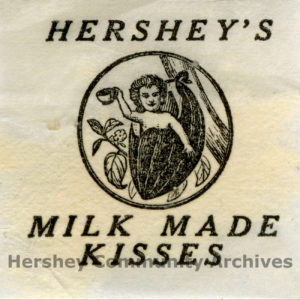 To counteract the many competitors and greatly improve manufacturing efficiency, in 1921 the Hershey Chocolate Company developed wrapping machinery that could insert a visual product marker, the paper plume, inside the foil wrapper but with the Hershey's "flag" protruding from the top for all to see. Hershey began advertising its new wrapping technology and consumers began looking for the Hershey's paper identification plume.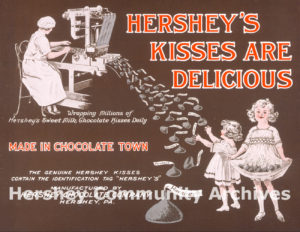 An Employee becomes a Competitor
In 1910, Milton Hershey hired James B. Leithiser, the husband of one of his cousins, to serve as general manager of all the non-chocolate businesses—what would later be consolidated as Hershey Estates. Leithiser was responsible for overseeing the majority of the town's building initiatives and the community's development over the next ten years.
As Milton Hershey began to expand his operations in Cuba, he asked Leithiser to move to Cuba and oversee its operations.  Rather than move, in 1921 Leithiser resigned from his position and relocated to Berks County in Pennsylvania to open a confectionery business, Fleetwood Chocolate Company.
Rumors that former officials of the Hershey chocolate company who in the last few months have severed their connections with the chocolate king were about to organize a new company in Berks county have been confirmed…J.B. Leithiser…who grew up with the Hershey plant as one of the executive managers is named as president of the Fleetwood organization. [Lebanon Daily News, January 6, 1922]
A year later Fleetwood was in direct competition with Hershey's. One item in particular caught the attention of William F.R. Murrie, president of Hershey Chocolate Company.
Protecting the Brand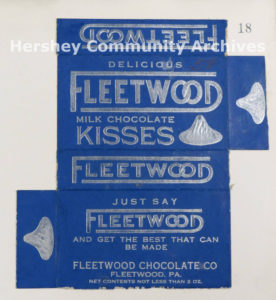 When the Hershey Chocolate Company began including a paper plume with each wrapped Hershey's Kiss, the company also filed a federal trademark registration, registering the mark "Hershey's Milk Chocolate Kisses" in 1923. Fleetwood's Milk Chocolate Kisses prompted Hershey to consider the value of the term "Kisses" in general. Hershey Chocolate Company president William F.R. Murrie brought the Fleetwood product to the attention of Mr. Hershey's attorney, John E. Snyder. Murrie thought it was imperative to protect the Kisses brand. On March 17, 1923, he wrote to Snyder:
There is being sold in the New York market Fleetwood Milk Chocolate Kisses, made by the Fleetwood Chocolate Co., Fleetwood, Pa. A 2 1/2 lb and 5 lb. box of these are in transit now and will be delivered to you shortly. The packages have been opened and some of the contents removed.

It seems to me that we should not surrender what rights we may have in the use of the words, "Kisses," or "Milk Chocolate Kisses."
Additional federal trademark registrations protecting the name, and unique conical shape of Kisses, both wrapped and unwrapped, were later obtained. Today, The Hershey Company continues to proactively protect the Kisses brand. One reason is to avoid a generic or "genericized" trademark. Trademarks can become "genericized" when the associated product or service acquires substantial market dominance or "mind space" and the trademark becomes a term for the product or service itself instead of a brand. Genericized trademarks include: aspirin; escalator; trampoline; and laundromat. A company risks losing its trademark and associated rights if a trademark becomes genericized and it also enables competitors to use the trademark.
Hershey Chocolate Company executives recognized the value of the Kisses brand early in the product's history. Early and continued brand protection ensures that Kisses chocolates and confections are still only associated with Hershey.
#HersheyArchives@30