HersheyArchives@30, Part 17: Meet You at the Movies – "Seeing Wonders"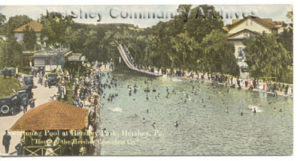 While he did not make use of print or radio media advertising, Milton Hershey was interested in promoting his model town and its amenities and attractions. He believed that the town and the chocolate business were intertwined and promoting one benefited the other.
Milton Hershey was an innovator and was inspired by new ideas and methods.
The immense popularity of movies in the 1930s encouraged Milton Hershey to experiment with them to promote his model community, and his chocolate business.
Hershey hired Don Malkames, a successful filmmaker from Hazelton, Pennsylvania, to create a film about Hershey.
In 1932, "The Gift of Montezuma" was released.  Distributed to public schools and community groups across the United States, this film told the story of Milton Hershey's model town, the process of making milk chocolate and the beneficiary of Hershey's success, Hershey Industrial School (today Milton Hershey School).
The following year, buoyed by the success of his first film, Milton Hershey decided to make a second film.  Once again directed by Malkames.
Unlike "Gift of Montezuma," this short (less than 11 minutes) film, "Seeing Wonders," was more like a travelogue. The film promoted Hershey as a model town and a destination. Significantly, Lowell Thomas, a nationally known broadcaster, was tapped to narrate the film.
"Seeing Wonders" celebrated Hershey's continued growth and success during a period of national economic collapse. The film was designed to inform, inspire and encourage viewers to visit Milton Hershey's model town.
The movie takes viewers on a tour of the model town's comfortable homes and happy children. The newly built Hershey Community Building, with its extensive recreational facilities is highlighted.
Hershey Park's extensive recreational facilities were also featured including the zoo, amusement rides, entertainment, and recently built swimming pool.
The movie was filmed just after The Hotel Hershey opened. In his narration, Lowell Thomas referred to The Hotel Hershey as "a palace, a palace that out-palaces the palaces of the maharajas of India."
Throughout the movie, there are continual references to the Hershey Industrial School and the boys that are being cared for there. As Lowell Thomas notes, the school "is the real meaning of the city that is a dream come true."
#HersheyArchives@30