Back to School! Again!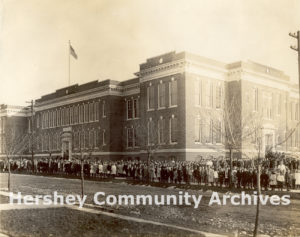 By now, students everywhere are back in school. We can definitely feel it here in Hershey, as Hersheypark has closed, except for a few more weekends, and Hershey residents can drive through town without being slowed by tourist traffic.
Hershey residents take pride in the quality of our public school system. Good schools were valued by Milton Hershey and he made significant contributions to ensure that Hershey children would have access to a quality education.
2014 marks the centennial of Milton Hershey's first significant gift to Hershey's public schools: the M.S. Hershey Consolidated School of Derry Township. Dedicated on October 13, 1914, the M.S. Hershey Consolidated School offered education for grades 1-12. The building had 18 class rooms on three floors, a kindergarten, library, bathrooms, playrooms and lunch rooms.
The building was designed to serve up to 850 students. Students began their academic career as kindergartners on the first level and literally worked their way through the building, grade by grade. Students finally made their way to the top floor for their High School years.
This school building was only one of many gifts Milton Hershey would make to the Derry Township School District during his lifetime. You can read more about the history of Hershey public education here and here.
Gallery
Click image to view larger
Search Encyclopedia